Procter Cast Stone: the Perfect Material for Self-build Projects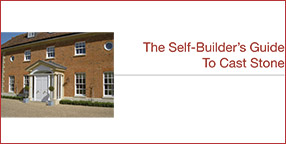 ​Of all its many applications, cast stone is arguably especially well suited to self-build projects, be they renovation, extension or new build –  and for both traditional and contemporary style.  Cast stone's strong suitability for self-build is largely because:
Architectural features can be designed and manufactured much more cost-effectively than cut stone, but the visual effect is just as good
For renovations and extensions, cast stone features can be manufactured to match existing stone features – and again more cost-effectively
Although cast stone is often associated more with traditional designs, it is equally appropriate for adding striking details to contemporary properties
At Procter Cast Stone we offer a free guide for using cast stone for self build projects.  'The Self-Builder's Guide to Cast Stone ' explains what this exceptionally versatile construction material can be used for, how it is manufactured and how easy it is to work with – both in terms of design and installation.  Illustrated with a wealth of colour photographs, the guide benefits from a table of applicable British Standards and Eurocodes, as well as listing sources of further information.  Download cast stone guides or request a copy by telephoning us or mail Procter Cast Stone.
Visit us at the National Self Build & Renovation Centre
The Buildstore National Self Build & Renovation Centre in Swindon is the UK's only permanent centre for self builders & renovators.  Our stand in the centre gives details about our products and services, and we'd be very happy to meet you there to talk through your project and answer your questions etc.  If you'd like to arrange a meeting, just call us.
Working with the experts who care about YOUR project
We understand that self-build projects are a big undertaking and problems and challenges are inevitable for even the most experienced self-builder along the way.  So at Procter Cast Stone we aim to make our aspect of your project as straight forward and hassle-free as possible by:
Providing truly expert advice on all aspects of cast stone, from design through to installation
Giving an exceptional level of personal service
Delivering to your site on the agreed date
If you would like to discuss any aspect of using cast stone for your self-build project or have any questions, then don't hesitate to call us.