House Builders
Newlay Concrete supply a comprehensive range of blocks to the building industry from our three sites across Yorkshire. Renowned for the high quality of products on offer, we manufacture lightweight and dense aggregate blocks for use above and below ground – foundation and breeze blocks, 'paint-grade' blocks, flooring products and coursings.
Get in touch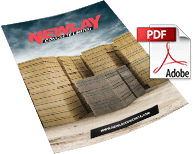 What blocks should you use for your project?
Download our technical specification sheets for all our commercial concrete blocks.
"*" indicates required fields
Newlay are a popular partner because of the high standards of our service. We understand the needs of our clients:
We are renowned for our technical expertise and our understanding of the demands of the industry with regard to budgetary constraints and ever fluctuating schedules of work.
We are only a phone call away and our levels of customer service are something we are immensely proud of.
We are large enough to be responsive, working to tight deadlines without compromising on quality. Our experienced team have in-depth knowledge of the complete product range and are on-hand to advise where necessary.
Our blocks are of a quality that can be relied upon.
Sustainability and the Carbon Footprint
As members of the Concrete Block Association (http://www.cba-blocks.org.uk/), we are actively engaged in becoming carbon neutral in our own manufacturing processes. The change in building regulations with regard to air permeability, thermal mass and thermal bridging in house building has highlighted how effective aggregate concrete blocks are in house building.
We take the issue of sustainability very seriously. How we manufacture now has an effect on the future. We work towards manufacture that minimises the effect on the environment, prevents pollution, lessens wastage and protects the workforce and surrounding communities. We source our materials in an environmentally responsible manner.
We have been awarded the status of Charter Member by the Precast Sector Sustainability Charter.
The beauty of a block
Aggregate concrete blocks continue to be the most popular building block in the UK and it's easy to see why:
Cost effective
Versatile
Fire resistant
Strong
Recyclable
Have a question? Call us on 01924 456416 or fill in the form:
"*" indicates required fields