Make sure cast stone looks its best by using Procter's installation and aftercare services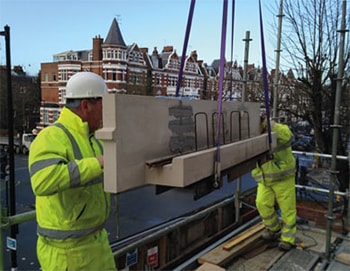 Cast stone is a cost-effective way to add eye-catching architectural features, enhancing both the perceived and actual value of properties. However, poor installation by general builders who do not appreciate the level of care needed can easily spoil the appearance. If rectification work is necessary, this is costly and time-consuming.
To help main contractors ensure cast stone features look as good as they should and be 'right first time', Procter Cast Stone offers an installation service for both UK and overseas customers, whether the cast stone units are standard catalogue products or bespoke items manufactured to architects' drawings. This service is becoming increasingly popular, particularly for complex installations such as porticos and balustrades. So far the installation teams have worked on prestigious private houses, self-build projects, housing developments, care homes, hotels, commercial premises, places of worship and alterations to period properties.
Quality craftsmanship and attention to detail ensure the cast stone units are installed without damaging arrises or faces, and the appearance of the finished installation is not marred by stray mortar. Procter Cast Stone employs its own specialists, so main contractors can be certain that the cast stone will be installed by skilled and experienced personnel who always follow strict procedures and maintain the highest standards. When cranage or lifting equipment is needed, this is included within the quote and arranged by Procter Cast Stone, so there are no hidden costs.
Before the project commences, Procter Cast Stone undertakes a full site survey and client consultation in order that the work can be planned in detail. If requested, copies of method statements and risk assessments can be provided prior to work starting on site. While the Procter Cast Stone installation service is likely to work out slightly more expensive than paying a general builder, if a builder installs cast stone badly and rectification work is required, the overall cost will be considerably higher. Furthermore, if the installation service is utilised, Procter Cast Stone retains full responsibility for the cast stone until the customer is 100 per cent satisfied.
To complement the installation service, Procter Cast Stone also offers an aftercare service. This can be very useful if a contractor has installed cast stone poorly and rectification work is required. Essentially there are three types of work undertaken by the aftercare teams: cleaning, pointing and repairs.
Post-installation cleaning removes dust caused by cutting, mortar stains and other general marks picked up during construction. It is essential that cleaning is carried out correctly, otherwise the surface can be more seriously damaged. When it comes to pointing, general builders often do not appreciate that the mix for cast stone is different from brick pointing mixes. If the incorrect mix has been used, Procter's aftercare teams grind out the mortar and repoint with the correct mix, resulting in a finish that is of as high a standard as the cast stone itself. Sometimes arrises are chipped or cast stone units suffer more significant damage during or after installation. Replacement of entire units can be difficult, costly and time-consuming, but specialist repairs can be carried out in situ far more quickly and cost-effectively – think of it as 'invisible mending for cast stone.'
Depending on the environment in which the building is located, cast stone can need periodic cleaning in order to continue looking and performing at its best. Procter Cast Stone's aftercare and maintenance teams are ideal for performing this work, applying their specialist skills to clean, repoint or repair damage as necessary.
Follow the links to find out more about Procter Cast Stone's installation and aftercare services, or take a look at the gallery to see examples of Procter Cast Stone's work. To enquire about standard or bespoke cast stone, call 0113 286 3329 or email info@newlayconcrete.com