Procter Cast Stone's 5 Axis CNC Machine Improves Lead Time and Quality
Procter Cast Stone have recently started to work with a 5-Axis CNC Machine. The cutting edge technology enables us to use our design expertise to develop an unparalleled range of complex shapes and design details, to make virtually any architectural stone profile. We design and supply a wide range of high quality cast stone with no compromise to aesthetic appeal.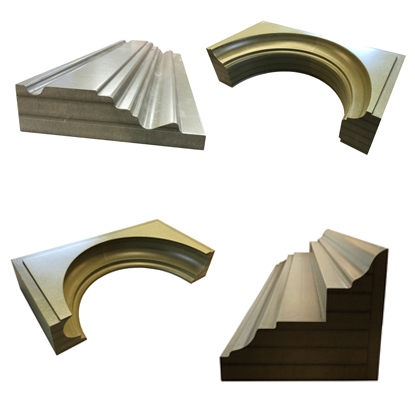 What is a 5-Axis CNC Machine?
​
Computer Numerical Control (CNC) is the method for automating the control of machine tools via the use of software that gives the tool pre-programmed sequencing commands. At Procter Cast Stone, we use the CNC machine to outline and edge-cut cast stone into different shapes. The-5-Axis CNC machine can move on five different axis simultaneously, creating detailed design of very complex parts. The use of a CNC machine provides a greater production capacity that is ideal for creating large production quantities that require consistent, accurate and complex cuts.
How can our clients benefit?
1. Improved lead-time and increased efficiency
2. Produces consistent high-quality work
3. Perfect finish with complex outlines and edging cut perfectly smooth
The efficiency and speed of a CNC machine reduces the total time taken in creating products as well as producing higher quality cast stone that are designed to your preference. Procter Cast Stone only use the best craftspeople, tools, software and machinery. When you order a Cast Stone product, you can be confident of receiving exactly what you want. Using state of the art machinery and many years of craftsmanship experience,
Procter have built a reputation for precision cast stone engineering. Our team includes multiple generations of families working together, using the best of traditional techniques as well as cutting edge technologies to ensure top quality, efficient craftsmanship on all of our projects.
If you have any questions or are interested in Cast Stone supplies, please follow the link to the contact form on: https://www.newlayconcrete.com/contact-us or alternatively, please telephone +44 (0)113 286 3329 and we'll be happy to answer your inquiry.
Procter Cast Stone are part of Procter Bros, a UK heritage company that was established over 275 years ago. We manufacture, design and supply ornate cast stone products made by shaping concrete masonry material into moulds. With the resulting process being a luxurious simulated naturally designed stone cut product.