The Suitability of Cast Stone for Listed Buildings and Conservation Areas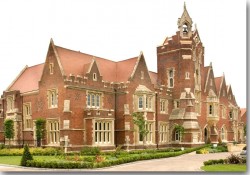 Cast stone is an extremely versatile and cost-effective construction material and is typically used to add traditional styling features to new buildings. However, many architects and specifiers do not realise that cast stone can also be used to listed buildings and in conservation areas. While it is true that approval must be granted for this material to be used in place of quarried stone, Procter Cast Stone has experience of supplying products for such applications, as well as supporting and assisting clients in their negotiations with planners.
Listed buildings that are being repaired, restored, altered, extended or converted can all benefit from cast stone. In some cases it is appropriate to replace quarried stone that has been damaged or lost, while elsewhere cast stone can be used to mimic quarried stone features so that extensions or alterations blend in with or complement the existing building. Procter Cast Stone's experienced staff can undertake a site survey to ensure as close a match as possible, including colours and surface textures. Because cast stone weathers in the same way as quarried stone, the new units soon develop a comparable finish.
Using cast stone instead of quarried stone can reduce costs considerably, especially where there is a need for multiple identical or near-identical units. When the requirement is for relatively complex bespoke design, cast stone is still likely to be less expensive than quarried stone that needs to be carved.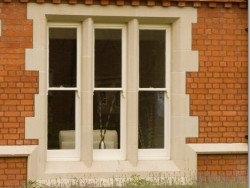 Provided a reputable supplier is used, cast stone offers several other benefits in addition to the major advantage of cost reduction. For example, deliveries can be made to an agreed schedule and tend to be more reliable than for quarried stone, and the fact that cast stone units are manufactured in a factory environment to tight specifications and under a rigorous quality management system means that quality is consistent both within a batch and from one batch to the next. Furthermore, should one of the units suffer minor damage, repairs can often be carried out in situ by the manufacturer. If a unit is damaged beyond repair, a replacement can usually be manufactured and delivered to site within about two weeks if the correct mould is available.
Award-winning Conversion of Grade II Listed Hospital in Conservation Area
An example of the type of project with which Procter Cast Stone has been involved is The Galleries, City & County Group's award-winning restoration and conversion of the Grade II listed Victorian Warley Hospital site in Brentwood. Procter Cast Stone supplied hundreds of cast stone units to replace damaged quarried stone and to replicate quarried stone for new features on the existing buildings, as well as for new buildings and extensions on the site. Items supplied included window and door surrounds, plinth and string course, buttress stone, steps, bay windows, coping and gable vents. All were bespoke, manufactured to the architects' drawings. Initially the planners expressed concerns about using cast stone on Grade II listed building in a Conservation Area, but Procter's staff attended meetings with the planners and architects to discuss this issue, with the result being that cast stone was approved for use.
Other projects on which Procter Cast Stone has worked include private houses that are listed, churches and heritage structures such as Kimberley Bridge.
Cast stone, which is something referred to as simulated stone, is formed in wooden moulds that are constructed by skilled pattern makers working to the architect's drawings. Depending on the product and finish required, cast stone is made using a semi-dry mix of white and/or grey cements with quarried or manufactured sands. The appearance of quarried stone is achieved using crushed quarried stone, well graded quarried gravels and mineral pigments. A waterproof is also added to minimise moisture absorption and improve resistance to frost damage. On large components, a coloured facing mix is used on the outside of the mould, with a higher-strength, non-coloured backing mix in the interior. Reinforcement can be incorporated to enhance the structural strength, and bosses for lifting eyes can be set within the casting to ease handling on site.
To the untrained eye, cast stone is indistinguishable from the quarried alternative. In many cases it is prohibitively expensive to use quarried stone, so architects and planners are increasingly turning to cast stone for listed buildings and conservation areas.
Procter Cast Stone has published 'Understanding Cast Stone – A Guide to Cast Stone Products for Specifiers', which contains a weather of information relating to this sustainable, versatile and cost-effective construction material. For copies of this guide and other literature, go to the Free Downloads section. Alternatively, contact Procter Cast Stone by telephoning or email info@newlayconcrete.com