Cast stone for commercial buildings delivers benefits for all parties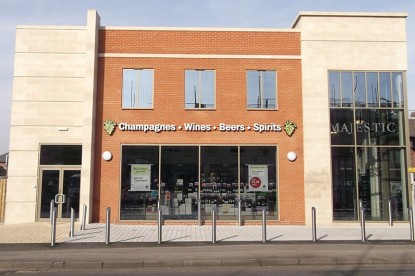 Cast stone is increasingly being used for commercial buildings such as shops, banks, supermarkets, offices and even warehouses. These commercial projects are a far cry from the residential applications more usually associated with cast stone, but architects appreciate the material's versatility and the way it can add maximum impact for minimal cost and risk. From the client's perspective, the small additional outlay for the cast stone features can be recouped many times over through a higher resale value for the property, or better occupancy rates and rental income.
Buildings constructed with quarried stone possess an air of quality, strength and solidity, but quarried stone is expensive. To the untrained eye, however, cast stone is indistinguishable and therefore offers a very cost-effective alternative – particularly where repetitive work is required, as cast stone manufacture takes place in moulds that can be reused many times. Typical cast stone products specified for commercial premises range from ashlar and wall cladding, through string courses and banding, to arches and coping. Procter Cast Stone has an extensive range of standard products and colours, but the versatility of cast stone means that architects can have a free hand in creating striking bespoke cast stone features. Non-standard colours can be specified to mimic a particular quarried stone, to complement a corporate identity, or simply to create a unique aesthetic. As well as geometric form and colour, the versatility of cast stone even extends to surface textures.
Properties in town centres, in particular, need to blend in with surrounding buildings that may include traditional design features; cast stone can be used as a simple and cost-effective way to achieve this goal. If a property is being renovated or converted, cast stone can be used to replace quarried stone units that have been lost or damaged, or to produce matching window surrounds or other details. If the property in question is listed or in a conservation area, Procter Cast Stone can support clients when they are negotiating with planning authorities so that cast stone may be used instead of quarried stone.
For contemporary buildings, architects can use the versatility of cast stone to create striking designs. Almost any three-dimensional form can be produced in cast stone, and Procter Cast Stone can provide design advice and guidance through technical consultations to help architects bring their concepts to fruition as cost-effectively as possible.
Compared with quarried stone, cast stone offers several advantages in addition to lower cost. For example, lead times are typically much shorter and deliveries more reliable, and if any units are damaged they can often be repaired in situ or, if the damage is irreparable, replacements can be manufactured and delivered to site within around two weeks (provided the correct mould is available). Site handling can also be easier and installation quicker because threaded bosses can be cast into the units for attaching lifting hooks. Cast stone weathers in the same way as quarried stone and generally requires no maintenance, though it can be cleaned if required.
Procter Cast Stone has published a number of detailed guides that explain more about cast stone and its benefits. Follow the links to download the free guides, as well as brochures and CAD drawings of standard cast stone products, and to browse the gallery and case studies. To discuss specific projects or request a site visit, telephone us or email info@newlayconcrete.com.