Free Downloads: CE Marking Requirements for Cast Stone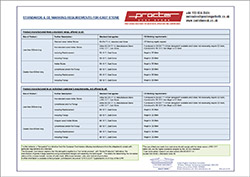 Two new downloads have been added to the Procter Cast Stone website, both relating to CE marking of cast stone. The PDF table, decision tree and accompanying notes help architects and specifiers understand which British and European standards are applicable in different circumstances, and whether CE marking is illegal or necessary for compliance with the European Commission's Construction Products Regulation (CPR).
For several years, there has been confusion among architects and specifiers, as well as manufacturers, trade bodies and others, about when cast stone units should be CE marked, and which standards are applicable. Now, following a thorough industry-wide consultation, UKCSA has published two documents to provide clarity.
The first is a table showing which standards apply and whether CE marking is illegal or necessary for compliance with the CPR. Various different scenarios are presented, so readers can readily determine what is required. For example, if the cast stone product is a standard item, offered to all customers, with a length of less than 650mm and reinforcement incorporated, then the applicable standard is BS 1217, Cast stone. Specification, and it would be illegal to apply the CE mark. On the other hand, if the product is a standard ashlar block, offered to all customers, and the length is less than 650mm, then the applicable standard is BS EN 771-5, Specification for masonry units. Manufactured stone masonry units, and CE marking to the CPR is required. Note that as well as covering standard products, the table also shows what happens when cast stone products are manufactured to an individual customer's requirements.
A second document helps users to decide what is required by means of a decision tree, with straightforward questions and yes/no answers leading the way through the process.These two downloads are the latest additions to Procter Cast Stone's online library that contains guides, tips and information for architects, specifiers, self-builders and installers. The website also has a photographic gallery, a broad selection of cast stone case studies, CAD file downloads and a list of British Standards, making it one of the most comprehensive resources for anyone interested in cast stone.
Go to Downloads to download the CE marking documents, and use the website's Live Chat facility to ask for more information or discuss specific projects. Alternatively, you can email info@newlayconcrete.com