Builders Merchants
For the supply of aggregate concrete blocks to your customers, look no further than Newlay Concrete.
We manufacture a comprehensive range from our three sites across Yorkshire including lightweight and dense aggregate blocks for use above and below ground – foundation and breeze blocks, extralite, the smoother 'paint-grade' blocks, flooring products and coursings.
Get in touch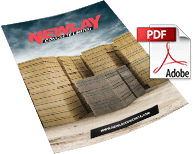 What blocks should you use for your project?
Download our technical specification sheets for all our commercial concrete blocks.
"*" indicates required fields
As experienced manufacturers and suppliers we know what's important for a building merchant –
Cost effectiveness – supplying the right quantities at the right prices
Quality of product – a constant quality must be relied upon
Range – to be able to go to one source for the greatest range possible
Responsiveness – being able to rely on a fast turnaround from order to delivery
People – to be able to deal with knowledgeable, helpful and reliable members of staff who know the value of good customer service
Newlay Concrete delivers on all these points making us a popular supplier to the trade.
Ease of Sale
There are no stumbling blocks when it comes to selling Newlay concrete products. They are made sustainably and to a very high standard and our range means that as a merchant you can remain a one-stop-shop for your customers.
For more detailed information about our range of products, please download your copy of our data sheets. To make an enquiry please use the contact form and we will be in touch as soon as possible.
Have a question? Call us on 01924 456416 or fill in the form:
"*" indicates required fields